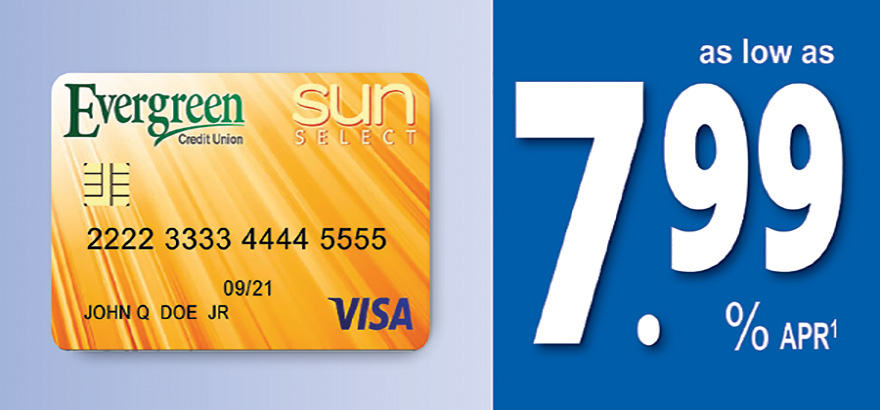 Low, fixed rate
Balance Transfer Bonus
Details
Get a SunSelect Credit Card with fixed interest rates as low as 7.99% APR1. Earn up to $450 as a bonus when you transfer balances to a SunSelect Card2.
Earn $30 for each $1,000 transferred2
No balance transfer fee or annual fee3
Apply 24/7 and close online
Apple Pay® and Google Pay® enabled
For info or to apply, call us at (207) 221-5000.
1 Rates effective as of 12/22/2022. APR = Annual Percentage Rate. Find fee information and annual percentage rate details here. Rates subject to change without notice. Not all applicants will qualify for the lowest rate. Foreign transaction fees may apply.
2 Earn $30 bonus for each $1,000 transferred to a new or existing ECU SunSelect Credit Card during the promotion period, not to exceed $450.00. Balance transfers must occur during the promotion period ending 3/31/2023 in order to be eligible. Transfers between two ECU credit card loans and/or other ECU loans/lines of credit are not eligible for the bonus. Balance transfers must be a printed check made payable to the credit card company we are paying off/down. We reserve the right to deny the promotion bonus at any time if we, at our sole discretion, determine that transfers are being made back and forth between ECU and Non-ECU accounts that have no purpose other than to earn an additional bonus. The bonus is payable 60 days after the month-end in which the balance transfer took place, and the credit card must remain open. The credit card must be open at the time of the bonus deposit. Promotion subject to change without notice.

3 Fee Information -
Cash Advance Fee: $5.00 or 3.00% of the amount of each cash advance, whichever is greater (Maximum Fee: $30.00).
Foreign Transaction Fee: 1.00% of each transaction in U.S. dollars.
Late Payment Fee: $25.00 or the amount of the required minimum payment, whichever is less.
Returned Payment Fee: $15.00 or the amount of the required minimum payment, whichever is less.