View all posts
Disc Golf Scramble Fights Ending Hunger in Maine
11/08/2023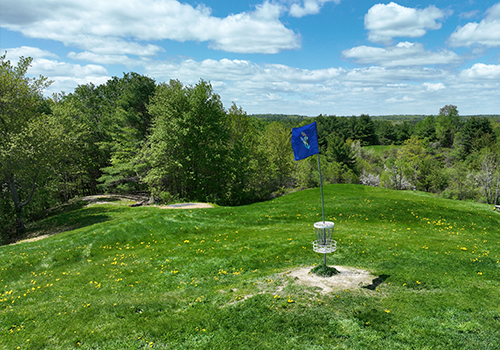 Evergreen Credit Union raised over $19,000 at their Annual Disc Golf Scramble at Pineland Farms in New Gloucester. All event proceeds benefit the Maine Credit Unions' Campaign for Ending Hunger.
This is the first year they've organized and hosted this fundraiser since 2019. "We'd been holding off on the disc golf tournament until we were certain we could host an event safely and efficiently," said Jason Lindstrom, CEO of Evergreen Credit Union. "As soon as we started planning the logistics, our team got excited!"
25 teams of four players took over the Minuteman course at Pineland Farms and finished off the day with raffles for disc golf memorabilia. "This was our first tournament in a while, and we're so grateful to the local organizations that came back to play with us this year," said Cole Rowland, Evergreen's Creative Specialist and project manager for the scramble. "We raised a ton of money and it all goes to a cause Evergreen really believes in. Next year, we'll be back bigger and better."
Maine Credit Unions' The Campaign for Ending Hunger allows Maine's credit unions give back to their communities by feeding those in need. 100% of all funds raised for this campaign directly support organizations that fight food insecurity. The Campaign has donated $12.3 million since 1990 and over $1 million in 2022.
Evergreen Credit Union is the 5th largest credit union in Maine, with over $530 million in assets and 4 branches serving southern Maine. They are opening their 5th branch in Scarborough in Spring 2024.